Gas patio heaters are an ideal way to keep outside areas warm, especially when the weather forecast can be variable. Once lit, an outdoor patio heater from us can keep an area of 10 square metres warm, with a 13kg canister of LPG lasting for up to 14 hours depending on wind conditions.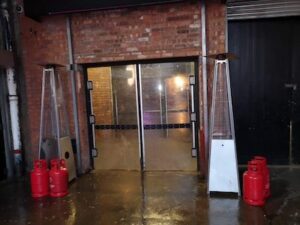 It's not hard to understand why a gas patio heater would outperform an electric patio heater either. Patio heaters require a large amount of power, which means any electric patio heater with any real power isn't really suitable to run off an extension lead – which isn't helpful in an outdoor situation. Gas canisters on the other hand are designed to be used outside and offer a throughput that electric outlets just can't match.
What makes our Gas Patio Heaters "Premium Event Products"
Our years of experience in the event hire industry have given us an insight into what differentiates a great product from just a good one. We've learned the hard way that not having the right features on a product can make all the difference to a customer.
The main difficulty with using any kind of gas patio heater is ignition. One of the things we have discovered in our experience of hiring out outdoor patio heaters is that most complaints we received from customers was regarding being able to get their gas patio heaters started. A standard ignition system requires a bit of patience and co-ordination which can be difficult when weather at an event or occasion isn't great and the pressure is on to make things comfortable for guests.
This was one of the things we bore in mind when we had our new patio heaters for sale designed. Although a more expensive option, we agreed that the only way forward was to ensure all of our LPG patio heaters are equipped with piezo-electric ignition. This makes lighting these patio heaters a much easier experience.
Another key addition was castors to the base. It seems obvious that outdoor patio heaters won't always be in use, so it makes sense to make them easy to move into and out of position – especially for the months when sitting outside isn't an option regardless of the weather.
All of our gas patio heaters for sale are supplied with a 1.3m hose and regulator, and are CE and ETL certified.